Cause I'm pretty sure it's already here! The air is "bending and snapping" better than Elle Woods in all her pink glory. While I love the crispness, bubblegum pink isn't my colour of choice for fall wear. I always do love a good floral though!
Not only do I love a good floral, but I am a fan of layering multiple good florals. There has a been a lot of talk about laying plaids, or stripes recently across the fashion blogger world. I think you should consider throwing florals into that mix! Like plaids, as long as they have similar colours you can put them right up next together and it's gonna work.
These two flowers are so similar, you can hardly tell where on starts and one ends. Kinda like a floral bouquet! Personal style is all about how you do or don't follow fashion "rules". Certain fashion rules are gone forever: don't wear white after Labour Day, don't mix black and brown.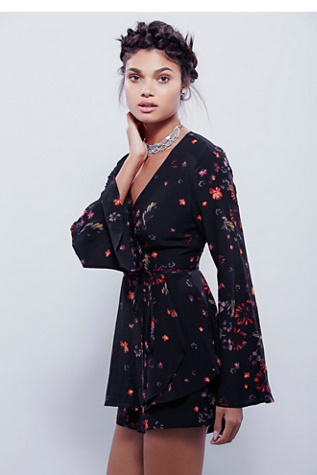 The scarf and dress combo above manages to put the blue and black in perfect harmony and at the same time blend two florals. You should give it a whirl.
-Kait Elizabeth
PS: How cute is the bow I paired my flowers with?
Here's some great one to top off you buns: