Seriously- every year boots get taller and taller, I don't know how room my legs have left for them! I do love a great pair of otkb though. These ones make me feel like a super heroine. Cause what else would you feel like in a pair of red thigh high boots?!
I have a problem of laughing at pretty much any little indecent joke. It's bad.
I featured this sweater as being in my cart and said would probably wind up getting delivered to me. Lo and behold here it is. Fortunately it has a super open weave so I can wear it now, instead of waiting and waiting and waiting on the weather to change.
I look pensive in this photo. Let me tell you: it's just me trying really hard to not squint in the sunlight!
Now the good/bad news: I got these boots on clearance at the end of last year, which means- flipping fantastic price for me, and none left for you. I'm sorry. I'll try to make it up to you below.
-Kait Elizabeth
It's boot season, stock up!
Not the same intense red, but they are uber close.
No post on over the knee boots would be complete without the mention, or throwing in a pair of Stuart Weitzman's. So much chicness.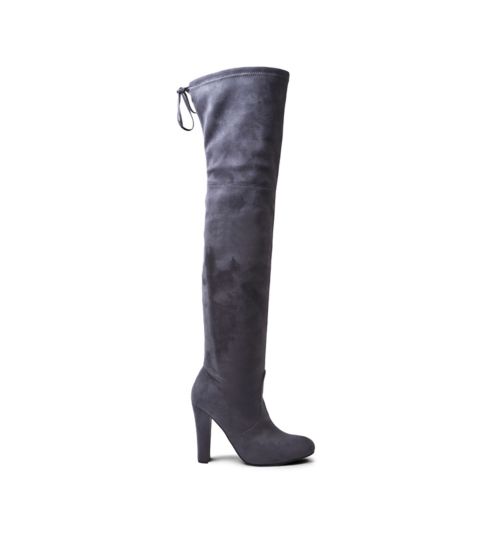 Steve Madden has made consistently cute, evenly priced shoes for years. This pair of boots is no exception! Loving the gray.